Why does my skin turn green from jewelry? Gold shouldn't stain skin, should it? In this post, I will explain why some people see their skin turning green from jewelry and what to do to keep jewelry from staining your skin.

>> How to tell if gold is real
MY RING TURNS FINGER GREEN – WHY?
Pure gold itself will not stain your skin. It is the other metals mixed with gold (to create a metal strong enough to work with in jewelry) that cause the problems. Usually copper, nickel, zinc and palladium are added to change the color of gold, and make it less soft and more affordable. Any one of these metals can oxidize and cause discoloration on your skin.
Among jewelry, gold ring is the easiest to tarnish green as people don't remove them when doing house chores or washing hands, causing it to react with chemicals in soap and detergents. Therefore to prevent ring from turning fingers green, do remove it before doing house chores or using soap.
>> How to care for gold plated jewelry
WAYS TO KEEP JEWELRY FROM STAINING YOUR SKIN
Avoid certain metals that react with your skin in gold alloy
If a jewelry piece turns your skin green, find out what metals that piece of jewelry contains. Try to avoid that metal in the future by asking the seller before purchasing. If your cheap gold tarnishes to a green color, nickel is likely the culprit. Try to buy nickel-free jewelry and the issue is likely avoided.
Buy gold of higher grade
Our 18k Gold Plated Coordinates Bracelets
Try buying gold that is purer such as switching to 18K gold instead of 14K or 12K. This will help reducing the amount of metals mixed in that cause gold to tarnish.  
Stick to yellow gold or try alternative metals
Try to stick to yellow gold instead of white or rose gold as the alloys these other "unnatural" colors are more likely to turn green.
If you love the look of white gold, look into platinum, which is expensive but rarely tarnishes. It also rarely causes allergies, so it is an excellent choice for people with sensitive skin. Titanium is another great precious metal choice that doesn't stain or causes allergy.
>> What is green gold? Different colors of gold explained
Try clear nail polish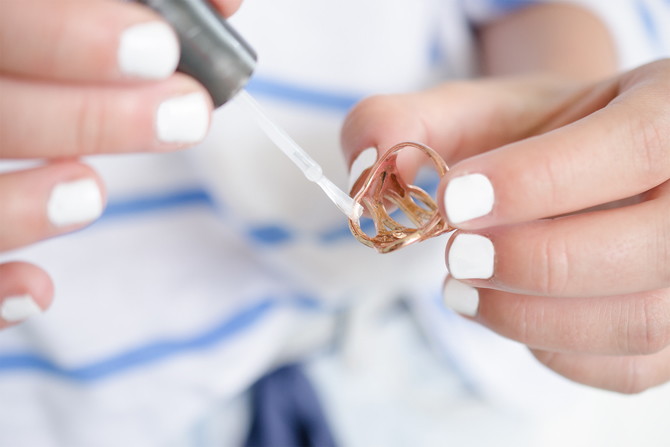 You could coat the jewelry with clear nail polish. With light use, this coat can last for quite a while.
Remove jewelry before activities
Remove jewelry before activities that can cause tarnishing such as sports or doing house chores that involve water or chemicals. This can help tremendously in keeping jewelry from staining your skin.
SHOP OUR RANGE OF 18K GOLD PLATED JEWELRY:

From Left to Right, Top to Bottom: Gold Necklace With Name In Cursive
– Name Bracelets – Personalized Mothers Bracelet – Mothers Necklace
In the last post in my gold series, we will look into how to care for gold jewelry. If you have any question, do leave a comment below!