Sterling silver, even real .925 sterling silver, will always tarnish. While pure 99.9% silver does not tarnish, any sterling silver will tarnish over time as a result of the metal mixed in.  However, fortunately there are many ways to keep sterling silver from tarnishing.

Does silver tarnish? This is a tricky question, as technically, tarnishing does not occur in pure silver. However, pure silver is too soft to be used in jewelry crafting. Therefore, jewelers will often add a small quantity of copper to  strengthen the silver. The resulting product is .925 sterling silver, which contains 92.5% pure silver and 7.5% copper. It is the primary material used for silver jewelry.
Unfortunately, because of the metals added, sterling silver, even real .925 sterling silver, will always tarnish.
Tarnishing thus does not mean that the silver is low purity. Moreover, as sterling silver has higher percentage of silver, it will tarnish much slower than silver of low purity. Therefore, sterling silver is still a wonderful choice of precious metals.
>> How to polish sterling silver
WHY WILL STERLING SILVER TARNISH?
Silver tarnish is the discoloration of sterling silver items which can take on a yellow or black tint. Although the pure silver in sterling silver does not react and tarnish at room temperature, the copper added can easily react with the salt and sulfur in the air, making sterling silver rust.
Tarnishing can take place even faster if sterling silver come in contact with detergents or cosmetics.  Even just the chemicals in our sweat is enough to cause corrosion in silver jewelry when worn.
The good news is that with sterling silver, regular care can really slow down the tarnishing, unlike silver-plated jewelry which will deteriorate no matter what. And even if your silver jewelry has already been spotted with tarnish, a good home clean-up, or better, a professional polishing will easily make it look like new.

This explains why sterling silver jewelry remains a popular and budget-friendly alternative to white gold or platinum. It is a go to metal for jewelry when you want a glamorous piece without breaking the bank.
HOW TO KEEP STERLING SILVER FROM TARNISHING?
Keep away from solution  
Corrosion in sterling silver takes place when silver gets into contact with salty solution or chemicals. Therefore it is very important to keep jewelry away from salt water or any house products or toiletries solution.  Do not wear silver in the shower or when doing dishes.
Avoid wearing jewelry in activities that make you sweat, such as outdoor chores or sports.
Last to put on, first to take off
Another important rule to prevent silver from tarnishing is that your jewelry should be the last thing you put on, after applying make-up and perfume and the first to be taken off, before your shower or activities.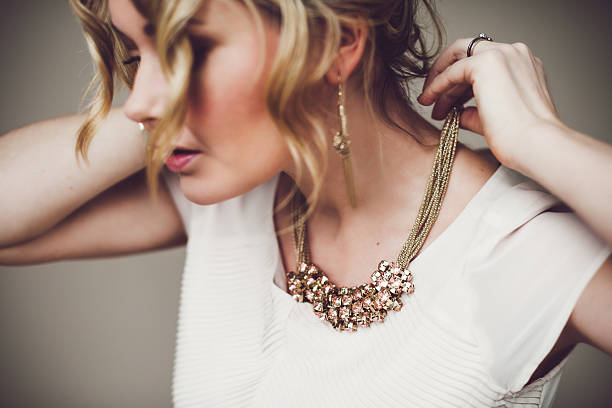 This is to preventing contact between any possible chemicals or salty sweat and your silver.
Consider your home and work environment 
Examine your job or environment to see if you deal with chemicals or other solutions on a regular basis. If that's the case, remove your silver before working with chemicals. For example, people working at cosmetics or perfume sales job might find  themselves having to clean their silver jewelry more regularly.
If you are living in a rather polluted environment, your jewelry might tarnish faster due to high level of sulphur in the air. As a result, it will need more regular polishing as well.
It might just be your body chemicals  
In some rare cases, certain people's sweat could react more with silver, resulting in faster tarnishing. This can become even more pronounced if the person is eating certain food or medication.
In short, wear your jewelry sparingly only when needed to stop silver from tarnishing. Do take them off at night, and keep them wrapped under soft cloth in zipped bags to minimize reaction with the air.
Otherwise, prepare to polish and clean them more regularly in order to maintain their perfect shine. In the next article, I will show you how to polish silver.
SHOP OUR RANGE OF 100% STERLING SILVER HERE:
From Left to Right, Top to Bottom: Our  Signature Necklace – Coordinates Bracelet – Memorial Handwriting Jewelry – GPS Coordinates Jewelry
Still have any question? Feel free to leave a comment below or send me an email at [email protected].